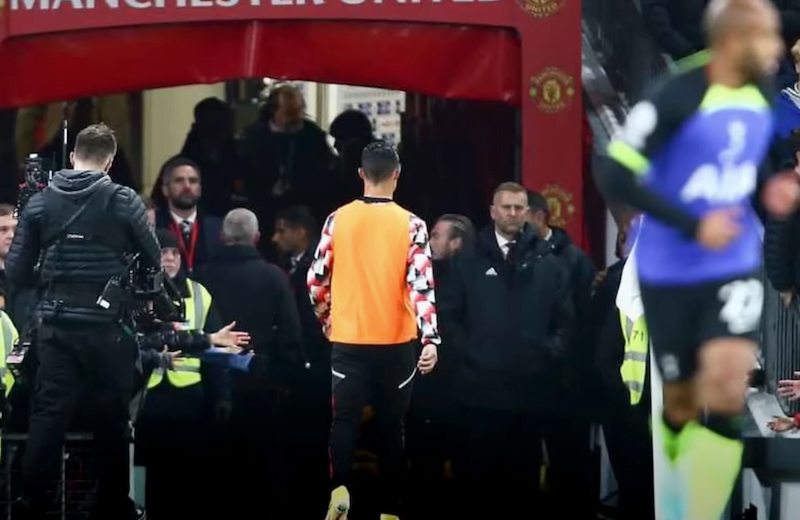 "Everything ends badly, otherwise it wouldn't end." — Brian Flanagan, Cocktail.
Plenty of Manchester United legends have left the club under less-than-amicable circumstances. For instance, disagreements over his personal life and celebrity status caused David Beckham to fall out with Sir Alex Ferguson, and the United icon was sold to Real Madrid for a then-record sum of £25 million in 2003. That was nothing compared to longtime captain Roy Keane, who was released in 2005 after a series of arguments and disagreements with Ferguson that still have yet to be resolved. Meanwhile, Ferguson famously had an up-and-down relationship with Ronaldo's former running buddy, Wayne Rooney, and probably would have sold him in the summer of 2013 had he not decided to retire.
This phenomenon isn't limited to Ferguson. Louis van Gaal's once-close relationship with Robin van Persie disintegrated during their time at United, and the former talisman found himself ruthlessly axed from the squad and sold to Fenerbahçe in 2005. Jose Mourinho called Paul Pogba a "virus," and while Pogba managed to outlast the Special One, his United career never really recovered and the Frenchman left the club over the summer with plenty of recrimination and bad feelings.
Things seem to be heading that way with Cristiano Ronaldo. On Wednesday, United turned in one of their best overall performances in years, thoroughly dominating a good Tottenham Hotspur team that, at kickoff, was seven points ahead of them in the league. After an uneven start to the season, United finally looked like a coherent, well-structured and tactically sound team that pressed well, attacked with intent, and defended so stoutly that Spurs' two best goal threats, Harry Kane and Heung-Min Son, barely had a sniff of goal all night.
It was a cause for celebration — as well as a clear sign of progress for a team that has only shown spurts of it over the last several years. It was also vindication of several of the club's recent transfers. Lisandro Martinez had another great game alongside Raphael Varane in defense. Casemiro did a great job shielding the defense and shutting down numerous attacks. Antony looked dangerous almost every time he went forward. If not for another toothless appearance by Jadon Sancho, it would have been a near-perfect evening.
So, of course, we're all talking about a player who didn't play a single minute in the match.
Then again, this isn't any United player we're talking about. In the 89th minute, Ronaldo decided to call it an early night and made his way to the players' tunnel. Ten Hag confirmed that Ronaldo declined to enter the game as a substitute, and it was later reported that he left Old Trafford before the final whistle.
The story has dominated the last two days and led to plenty of speculation that Ronaldo's days at the club are numbered. Maybe the club will release him on a free transfer in January. Maybe they'll send him to Atletico Madrid for Joao Felix — a player United reportedly bid £113 million for in the summer. Or maybe in addition to the already announced sanction of being dropped from the squad for this weekend's match against Chelsea, he'll be fined and forced to apologize to the team.
"I started very young, the older and most experienced players examples were always very important to me," he said in a statement. "Therefore, later on, I've always tried to set the example myself for the youngsters that grew in all the teams that I've represented. Unfortunately that's not always possible and sometimes the heat of the moment get's the best of us."
Either way, it's nice to see the Player Power era at United come to an end. Unlike the Ole Gunnar Solskjær years, where certain players seemed to get special treatment, ten Hag doesn't seem to be messing around when it comes to player discipline. And by laying down the law against the biggest star at United, ten Hag has left no doubt that he's the boss.
After all, despite what the Ronaldo stans might think, ten Hag is clearly in the right here. United have played much better without Ronaldo this season than with him, as CR7 is clearly a poor fit for ten Hag's tactics. Plus, no player is bigger than the team, and if ten Hag wanted Ronaldo to go mop up, then that's what should have happened.
Plus there's a clear precedent here. As The Athletic points out, Ronaldo's impending departure closely parallels that of another United legend: Ruud van Nistelrooy. Like Ronaldo, van Nistelrooy was a prolific goal machine (he has the best goals-to-game ratio of any United striker), who was highly respected in the dressing room.
Towards the end of his time at United, Van Nistelrooy repeatedly clashed with Ferguson, believing the presence of so many young players on the first team meant he wouldn't be able to win the Champions League (sound familiar?) Van Nistelrooy became a locker room distraction who fought with coaches and teammates. In fact, it was a training ground bust-up with a young winger new to the club named Cristiano Ronaldo that, more or less, spelled the end for van Nistelrooy at United. When he left in 2006 for Real Madrid, the only question was whether his relationship with Ferguson would ever recover. It eventually did — but not before van Nistelrooy apologized for his actions.
But perhaps the biggest strike against van Nistelrooy was that he was seen as holding back United's talented youngsters, particularly Ronaldo and Rooney. Players felt obligated to pass him the ball, and every time they misfired or chose a different option, they had to answer to a sulking, gesticulating van Nistelrooy.
In a way, the current version of Ronaldo is in a similar position. Because of his pre-eminence and track record, players will naturally defer to him both on and off the pitch. And he'll sulk, scowl or remonstrate if he doesn't get the ball when he wants it and where he wants it. Sometimes, it'll cost them points, as it may have done against Newcastle last week. Plenty of fans pointed out that United players seemed to be trying to force the ball to Ronaldo at the expense of better passing opportunities elsewhere on the pitch.
It's a shame that this is how it will end, considering how excited and genuinely happy fans were when he came back last year. But hey, things change and time marches on. At least we'll always have Ronaldo 3-2 Spurs from last season.