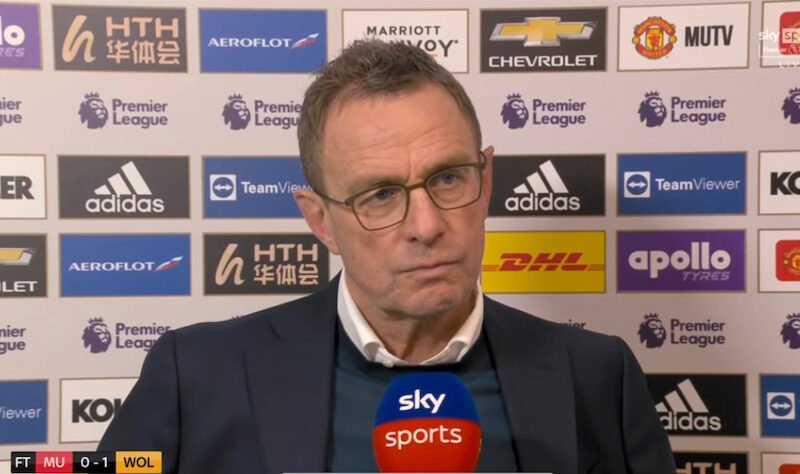 So much for that honeymoon period.
Looks like Ralf Rangnick is learning that Manchester United's problems run deeper than the managerial position. United opened 2022 with a limp, dispiriting 1-0 loss at home to Wolves, bringing their eight-match unbeaten run to an end.
Even before the Wolves loss, there had been concerns about United's performances, particularly on offense. The team scraped by relegation-threatened Norwich, winning on a 75th minute penalty from Cristiano Ronaldo, and should have lost to Newcastle. Other than a three goal barrage against Burnley, United haven't scored more than one goal in any match under Rangnick, and have often looked disjointed, disorganized and disinterested.
Instead, they've saved their best attacks for their manager, leaking information and sowing discontent through the media. I know Rangnick wanted his players to use the press more to go on the attack, but I don't think he had this in mind.
In the last two weeks or so, reports have emerged of widespread discontent at United, with as many as 17 first-teamers wanting out. For instance, players reportedly complained about training sessions starting later in the day, which meant it was dark outside when they left Carrington (because heaven forbid a bunch of men have to drive home after sundown — didn't realize so many of them observed the sabbath).
They also complained about the divided dressing room — even though one of the biggest points in favor of former manager Ole Gunnar Solskjær was the harmony he brought to United. So did these cliques pop up overnight or during Rangnick's month in charge? Or were things already like this, only the players decided to leak it now to make the new manager look bad?
And speaking of the new manager, despite the widespread acclaim concerning his hiring and the respect he commands from many in the game, there have suddenly been reports about players questioning everything from his tactics to his hiring choices. One player even, reportedly, didn't know who he was and had to Google him after he was hired.
All of that means Rangnick has his work cut out for him. He's got a leaky dressing room full of players who behave as if they're world class, trophy-laden superstars (Ronaldo and Raphael Varane, notwithstanding) and have their knives out for their interim manager. Hope Rangnick's been working on his defense — both for himself and for his team. After all, United's defense could use all the help it can get.