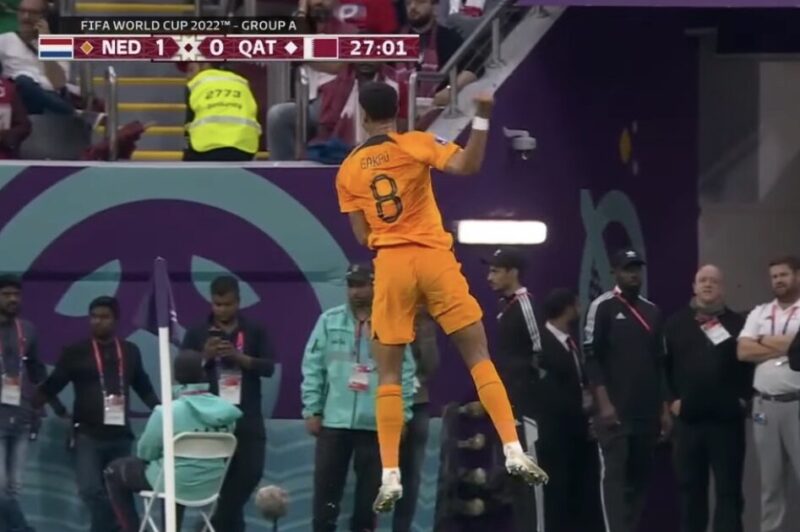 The World Cup can be unpredictable, but there are always a few guarantees.
Expect a worldwide drop in workplace productivity (including technological innovations designed to hide your time-wasting from your boss).
Your World Cup pool will include casual fans who will pick Brazil to win simply because they remember seeing Pele or Ronaldo play once. Or Argentina and Maradona/Messi.
Finally, there will be several players who parlay an impressive performance at the tournament into a big-money transfer to a top club.
Thus far, Netherlands forward Cody Gakpo has been one of the stars of the tournament. The PSV Eindhoven man has three goals in three matches, netting impressive scores in each of his team's group stage games.
Naturally, Gakpo's scoring exploits have raised questions about where he might end up in the January transfer window. Maybe Real Madrid, who love buying players coming off impressive showings at the World Cup. Or Liverpool, who are reportedly set to meet with Gakpo's people after the World Cup. Or Manchester City, because why not?
However, most of the links have centered around Manchester United — and understandably so. Erik ten Hag is well-acquainted with Gakpo, having watched him up close during his time in the Eredivisie. Gakpo was, reportedly, on ten Hag's shortlist over the summer, and probably would have made the move had United not splurged on Antony, instead. Additionally, Gakpo's manager at PSV, former United hitman Ruud van Nistelrooy, seems resigned to losing his starman, saying that Gakpo would decide his own future.
With United in desperate need of a forward now, especially after Cristiano Ronaldo's abrupt departure, buying Gakpo is an obvious move.
But is it the best move?
Gakpo plays mainly as a inverted left winger, making him a mirror image of Antony. Ten Hag likes playing with inverted wingers and full-backs, so Gakpo would fit right in.
However, United already have plenty of edge players, as well as forwards who are more comfortable playing on the wing. Instead, United lack a true center forward that can lead the line and the press.
Can Gakpo develop into the type of striker United needs? Or would the team be better off buying a proven forward like Napoli's Victor Osimhen or a younger prospect like Lille's Jonathan David or Red Bull Salzburg's Benjamin Sesko (the latter has a deal to join Red Bull Leipzig next season, so United would probably have to pay off both clubs)?
Those players will be expensive. But at least United won't have to pay a World Cup premium for them (Osimhen's and Sesko's teams didn't qualify — David's did, but he failed to score in three group stage matches). After all, United haven't had the best track record of buying players coming off strong World Cups.
For instance, Daley Blind impressed for the Netherlands at the 2014 World Cup and was one of their best players as they made an unlikely run to winning 3rd place. Dutch national team manager Louis van Gaal, who had been hired by United before the tournament, decided to buy him from Ajax and the deal was finalized right before the end of the summer 2014 transfer window. Blind was a serviceable player for United but could never establish himself as a starter. Ultimately, he went back to Ajax, where he became an important player for ten Hag.
That same World Cup, Marcos Rojo impressed for Argentina and helped lead his country to the Final, where they lost to Germany. On a star-studded team consisting of the likes of Messi, Angel Di Maria, Sergio Aguero, Javier Mascherano, and Gonzalo Higuaín, Rojo was the sole Argentine to make the Team of the Tournament. United decided to make a move for the defender, signing him in a £16 million deal that saw Nani move the other way. After several inconsistent and injury-plagued seasons, Rojo was shipped out in 2020 on loan before departing permanently the following year.
And, of course, there's the current captain, Harry Maguire. The then-Leicester City defender starred at the 2018 World Cup, helping lead England to the semifinals. That led to a protracted transfer saga as then-manager Jose Mourinho desperately wanted him and was disappointed United couldn't close the deal. Maguire came over the following summer and, after a solid debut season, regressed so badly that he's currently fourth choice under ten Hag and could be on his way out of the club.
So, it seems that splashing the cash for a player based, primarily, on one good tournament, even if it's a big one like the World Cup, can be a risky proposition. Just ask Real Madrid, a club where buying high on World Cup stars is, seemingly, baked into its DNA. Most of the time, they spend wisely, such as buying Toni Kroos and Keylor Navas in 2014, Sami Khedira, Mesut Ozil and Angel Di Maria in 2010 and (Brazilian) Ronaldo in 2002.
In 2014, however, their biggest outlay was £63 million for Monaco's James Rodriguez, a Colombian playmaker who electrified the tournament that year. Arguably, they didn't need Rodriguez as they were already stacked in midfield and attack (indeed, there was a conspiracy theory that the only reason the deal happened was because Real President Florentino Perez wanted to close a €692 million deal for his construction company to build highway and tunnel roadworks in Colombia).
Sure enough, after a promising start to his Real Madrid career, Rodriguez found himself struggling with injuries and form. Under Zinedine Zidane, Rodriguez became surplus to requirements and was shipped out, first on a two-year loan to Bayern Munich before moving permanently to Everton, of all places. After failing to make the grade on Merseyside, Rodriguez made a puzzling move to Qatar before joining Olympiacos in September. His lack of club form didn't affect his status with Colombia in the run-up to this year's World Cup, as he continued to play for his country. However, they failed to qualify for the tournament, causing Rodriguez to say: "[I]t breaks my heart to lose, it bothers me not qualifying and this can't happen again."
Or maybe he was upset because he knew another strong performance on the big stage might have landed him one last big move. Instead, like the rest of us, he'll be waiting and seeing where Gakpo and the other breakout stars of the World Cup end up.