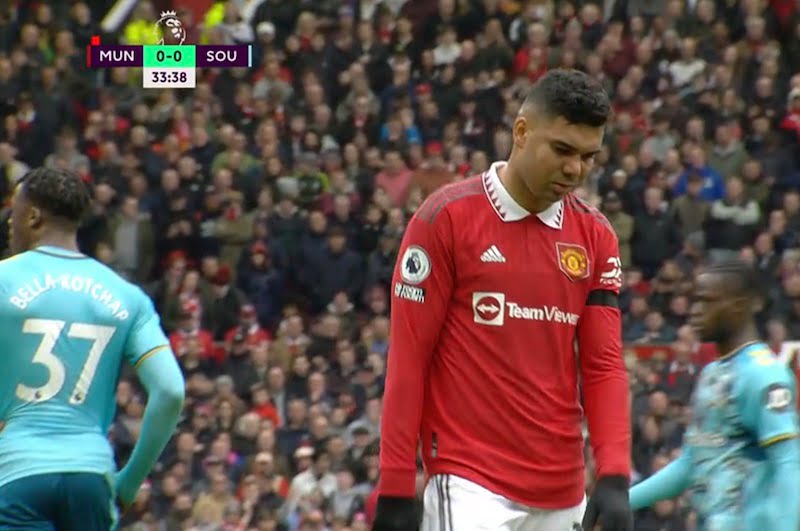 When teams are at or near the top of the table, they rarely talk about a draw as a point earned. Especially if they're playing at home against a team that entered the weekend in last place.
But Manchester United's 0-0 draw Sunday with Southampton definitely fit that description. That's what happens when you play for more than an hour with 10 men, thanks to a Casemiro red card.
Two weeks ago, Casemiro stock was, arguably, the highest it's ever been. He scored the decisive goal and was Man of the Match in the Carabao Cup Final, helping United end its six-year trophy drought.
Then, he got some much-deserved individual recognition, making the FIFPro World XI for the first time in his illustrious career.
He was rightfully hailed as a transformational force at United and even got compared to Roy Keane, the club's greatest and winningest captain in the Premier League era.
Unfortunately, the comparison has been apt in another way. During his United career, Keane got 7 red cards, tying him for second-most in league history alongside the likes of notorious goon Vinnie Jones. In total, he got red carded 11 times in all competitions while at United — the most in club history.
On Sunday, Casemiro earned his second red card in his last three league matches. He will miss the next four domestic matches, bringing his total to 8 so far. By contrast, Casemiro, despite his fearsome reputation, never received a straight red during his entire tenure at Real Madrid.
So what gives? On the one hand, there has definitely been some inconsistent officiating at play. After Casemiro was sent off against Crystal Palace for putting both hands around Will Hughes' neck, plenty of fans pointed out that Jordan Ayew also seemingly had both hands around Fred's neck during that same scrum but escaped punishment. Additionally, ten days later, Everton's Conor Coady grabbed Liverpool's Andy Robertson by the neck and pushed him away but wasn't sanctioned at all.
Meanwhile, Casemiro's studs-out lunge in the Southampton match certainly looked bad. But it seemed no worse than the one Leicester City's Ricardo Pereira hit Chelsea's Joao Felix with the previous day. That one wasn't even deemed a foul, let alone a bookable offense.
"What I think is the inconsistency; players don't know anymore what is the policy, and I think it's all across [every competition]," Ten Hag told reporters after the Southampton match. "We see it with the Premier League yesterday: Leicester-Chelsea, the VAR is not coming online. Today, it's coming online."
Or maybe it's an adjustment issue for Casemiro. Given the fast-paced nature of English football, at least compared to its Spanish counterpart, Casemiro has to make decisions quicker and has less time to pull out of potentially dangerous tackles. Sure, he's going to get one wrong every now and then. Perhaps it's more surprising that this hasn't already happened this season.
Or it could be that United rely on him too much — forcing him to be not just defensive shield but an offensive playmaker and set-piece goal threat as well. As such, he has to cover so much ground and has so many different responsibilities that he is prone to making mistakes or throwing out a rash challenge because he has less time to get into position to make a proper tackle.
Or maybe it's fatigue. The Southampton card came on a quick counterattack after Lisandro Martinez aggressively stepped up to try and cut out a pass to Carlos Alcaraz, forcing Casemiro to cover for him. The Brazilian was a step slow, forcing him to make the lunging challenge. Additionally, the previous weekend, Casemiro played his worst match since joining United, looking lost and out of sorts against a rampant Liverpool. Maybe the stress of changing leagues, taking on so much additional responsibility, playing in the World Cup, and leading United to the League Cup has finally taken its toll on our midfield general.
If so, then this four match suspension could be a good excuse to give him some much needed rest. Hopefully, United can weather his absence the way they did during his three-match ban earlier in the year. Otherwise, they'll need Casemiro to play at an even higher level than he's shown this season upon his return in order to secure Champions League football next season — to say nothing of additional silverware in the form of the FA Cup or Europa League.
Until then, we'll all have to pull a Leslie Nielsen and continuously wish a hearty "Good luck, we're all counting on you" to McFred in a way we haven't since Ole Gunnar Solskjær was in the dugout. Yeah, I'm not sure if I'm ready for the least welcome sequel since Dumb and Dumberer. So maybe the best course of action is to go to witch doctor and have them heal Marcel Sabitzer and Christian Eriksen as quickly as possible.