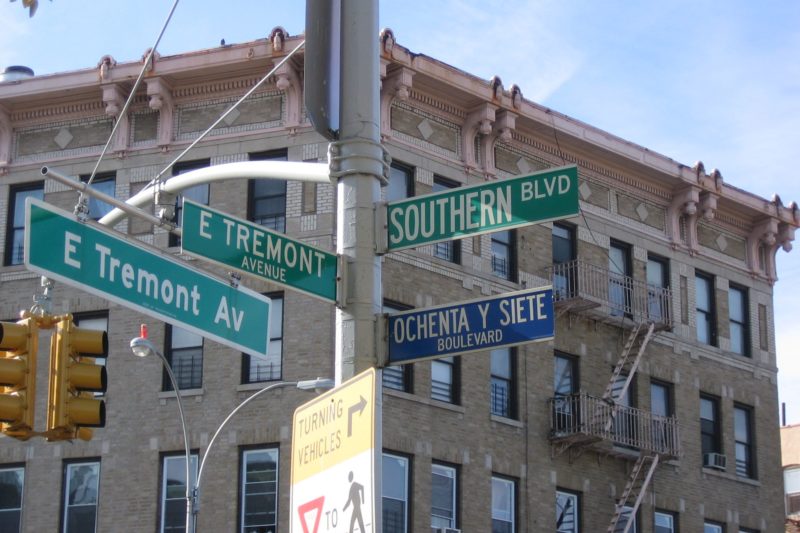 For related audio slideshow, click here.
BRONX — Every year at the end of March, Maria Romero makes her annual pilgrimage to the site of the Happy Land memorial, a vermilion marble obelisk at Southern Blvd and E. Tremont Ave in the Bronx. She uses her key to unlock the gate around the monument, and sweeps up the leaves and debris that have accumulated in the last year. She wants it to look nice for the memorial service, which takes place every year at the nearby St. Thomas Aquinas Church.
Hanging off the side of the fence is a large white sign listing the names of the 87 people who perished in the Happy Land Social Club fire on March 25, 1990. They fill four columns. The fourth name on the third column is that of Isabel Lopez, Romero's daughter. She was 17 years old.
Fifty-nine of the dead, including Isabel Lopez, were of Honduran descent. It was, at the time, the largest mass-murder to take place on American soil, and has since been surpassed only by 9/11 and the Oklahoma City bombing.
Twenty years after the horrific tragedy, the Honduran community remains fractured over its effects. Some are still haunted by the loss of friends and family. Others are upset that the Honduran community remains politically powerless and disorganized. And yet others say the community is actually stronger and better organized than it was back then, and that it ought to use the upcoming anniversary to build on the progress made over the years. "There are two parts to the Happy Land fire. It was the greatest fire in NY since 1911, and up until today, it remains the greatest tragedy to the Honduran community of New York City," said Jose Avila, the head of the Garifuna Coalition, an advocacy group for the Garifuna population in New York. Descended from West African slaves who settled in Honduras, Belize, Nicaragua and Guatemala, Garifunas are the largest ethnic minority in Honduras. "It was also through the fire that the general population of NYC got to realize that we were here. And it became a rallying cry for us."
The fire started when a man arguing with his girlfriend — a coat checker at the club — doused the entrance with $1 worth of gasoline and set it ablaze. The club, which had been condemned by the city for transgressions, including lack of fire alarms, emergency exits and sprinkler systems, was a popular destination for Honduran immigrants and was operating in violation of the law at the time of the tragedy.
In the years since, the Honduran community has experienced spurts of political activism. Several Honduran political groups popped up after the fire, all operating under the banner of the Federation of Honduran Organizations in New York. That organization no longer exists, and one of its successor organizations went under a few years ago after its leader, Maria Elena Maximo, was convicted of mail fraud for operating an immigration visa scheme that swindled her clients out of more than $1 million.
Ever since, activists have bemoaned the difficulties of organizing the Honduran community for political action. At a rally in Union Square supporting deposed President Zelaya, for example, only a few dozen Hondurans showed up. And even fewer showed up at a meeting in November that presented the results of a fact-finding mission to Honduras, even though it featured heavyweights like former US Attorney General Ramsey Clark and Honduras' UN ambassador.
"There should be hundreds of people here," said a dismayed Theresa Guiterrez, a Mexican-American and co-director of the International Action Center, a national human rights group that opposes the coup in Honduras, as she scanned the half-full auditorium. "This place should be full."
Meanwhile, a soccer match in Ferry Point Park on a cold October day between amateur teams drew more than 100 people, most of whom proudly wore their blue-and-white Honduran national soccer team jerseys while watching and cheering for their friends.
This lack of political concern is prevalent within the Honduran-American community, and makes it difficult to organize for community improvements. "The two main reasons are lack of education and poverty," said Lucy Pagaoda, a Honduran immigrant who helps lead the USA-Honduran Resistance Coalition. "They're just worried about earning a paycheck so that they can support their family back home."
Avila is looking to buck that trend. Whether he's sitting in his Mott Haven office, making last-minute preparations for the coalition's annual Garifuna heritage festival, or shaking hands with friends and compatriots at the annual Honduran Independence Parade in September, Avila often has a smile on his face.
Avila's mood changes when talk turns to Happy Land.
"That is one day I'll never forget," Avila said as his voice started to break and tears welled up in his eyes. Though Avila was living in Dallas at the time, his identical twin was in New York and Avila panicked that his brother was caught in the fire. Several phone calls later, Avila discovered his brother had not been in the club, but many of their friends had been and were now killed. "A lot of them were from the same place I was born, Trujillo, in Honduras… These were people I knew, some of them people I grew up with, and friends and family."
After the Happy Land tragedy, the city pledged to donate land for a recreation center in the South Bronx for Hondurans to deter them from socializing at illegal and/or condemned clubs like Happy Land. Then-President of Honduras, Rafael Callejas, and the Archdiocese of New York pledged funds. Jay Weiss, the owner of the club, was fined $150,000, money that was then earmarked for the center. During the one-year anniversary mass at St. Thomas Aquinas Church, Mayor David Dinkins announced that he would authorize the city to designate a chunk of land for the proposed center, two blocks south of Happy Land.
The community center was never built, and today, two-thirds of the land remains vacant while the remaining third was converted into an apartment building. Avila admits that the prospect of lining up enough funding to build the center in the near future is a "long shot." However, Avila points out that Hondurans do have Casa Yurumein in the Bronx and the Mugama Center in Brooklyn, both of which provide social services and education programs, as well as a place to socialize. "Even though we don't have the rec center, we have a lot more so that we can organize events and gather safely and we didn't have them 20 years ago," Avila said.
Furthermore, Avila says, the Honduran community has made great strides in political representation in the 20 years since the tragedy. "When I came here, there were no Hondurans serving on Community Boards. Now there are six of us, including myself, and we're working to ensure we have representatives on every Community Board," said Avila. "We're slowly building our political machinery that will allow us to, why not, elect our own candidates."
Avila also serves on the board of the Happy Land 87 Committee, a victims' advocacy group. The committee has held fire safety workshops in the community, and has gone to bars and clubs in the Bronx to ensure that they are up to code. "We've worked with the Captain of the 48th Precinct and the fire department to make sure these places know that they have to have rear exits, public assembly permits, and that they can't sell to minors," said Ivine Galarza, a Puerto-Rican who is District Manager for Community Board 6 in the Bronx, and serves on the committee
Others have avoided politics, but devoted themselves to serving the Honduran community in other ways. Franco Mena, a licensed soccer referee, used to go to Happy Land almost every weekend, often meeting with friends that he had known since he was a child in Trujillo, Honduras, as well as members of his soccer team. On the night of the fire, he and his friends were headed to Happy Land, but last minute decided on another club.
"There were eight of us that night," Mena said. "If we hadn't gone to that other club, there would have been eight more dead."
Moved by his escape from death, he devotes himself to serving the way he knows best: soccer. He gives free soccer lessons to children at Crotona Park. He referees soccer games and is active in the New York Honduran Soccer League. He also organizes petition drives, lobbying efforts and peaceful demonstrations to press the city to fix up Bronx parks so Hondurans have a place to play soccer. The city has approved the construction of new soccer fields at Crotona Park and Ferry Point, two popular hangouts for Hondurans. "I don't know if I'll die tomorrow," Mena said, "so I want to leave something behind, some legacy. Give something to the community.
"If Happy Land hadn't happened, a lot of Hondurans would still be in their holes. After it happened, a lot of people woke up."
The 20th anniversary of the tragedy will be commemorated with an outdoor Mass on March 25 at the site of the Happy Land Memorial. The Happy Land 87 Committee, a group that advocates on behalf of the victims of the fire and promotes awareness of domestic violence and fire safety, is producing a documentary on the fire, set to premiere at the Mass.