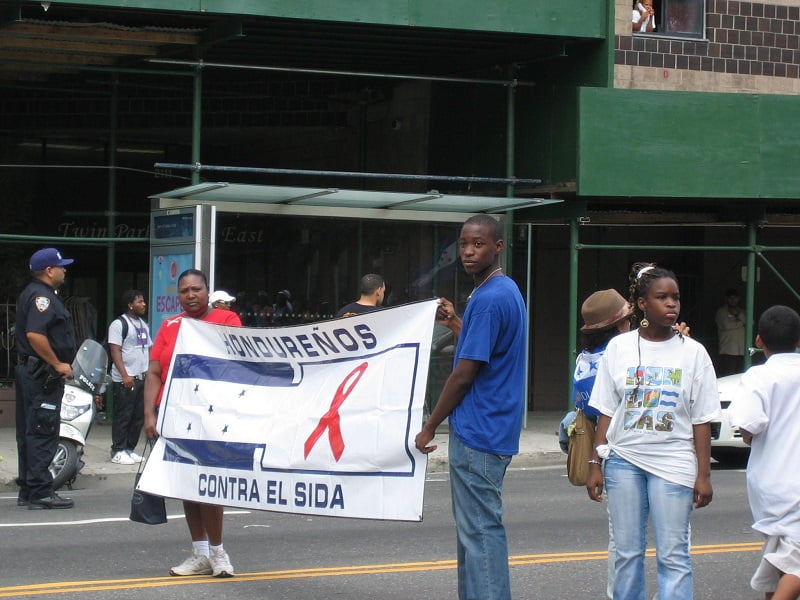 It's Saturday morning, and four small children are taking free art classes inside an unmarked Bronx brownstone in Morrisania. Nine-year-old Dell Thomas is drawing a portrait of his favorite character, Sonic the Hedgehog, that is accurate down to the rings around his wrists and the spikes on his head. The other kids are in awe of Dell's talent and start to get discouraged with their own work, but their teacher, Rene Moreira, is quick to reassure them.
"You're all good," Moreira says to his students. "You're all unique and have a creative mind." The students go back to their assignment, drawing with pencil and then coloring with pastels and crayons.
What makes this art class different from the countless other art programs in the city is who runs it, an organization whose name is splashed on a giant banner draped on the wall.
"Hondurans Against AIDS," it says, in big blue letters with the Honduran flag juxtaposed with a red ribbon.
This is the third year that the organization has offered free art classes. Starting this year, it has also added Garifuna language classes, which is the native language for an ethnic minority of Hondurans who are descended from Africans that originally came to the country as slaves. Despite their surroundings, the children do not discuss HIV/AIDS at all during the course of the art class. The same goes for the language classes.
"I usually send some literature home with the children so that their parents can read it," said Moreira. "But otherwise I concentrate on art."
"I just focus on teaching the language," said Milton Guity, a kitchen restorer who teaches the Garifuna language class.
That's just fine as far as Mirtha Colon is concerned. The very fact that people are here is a huge step. "There is a huge stigma in the Honduran community about AIDS," said Colon, a social worker who founded and leads Hondurans Against AIDS. "We started these classes and opened it up to the public in order to remove that stigma. We wanted to encourage people to interact with HIV/AIDS patients."
Hondurans have one of the largest rates of HIV infections among all Hispanic groups in the world. The latest numbers from the World Health Organization show that, as of 2003, between 35,000 to 100,000 adults between the ages of 15 and 49 in Honduras are living with HIV/AIDS. Although Honduras only accounts for 17% of the Central American population, they have reported more than 60% of all cases in the region. HIV/AIDS is especially a problem in Honduras' ethnic Garifuna population, as their infection rate is estimated to be between eight and 14 percent, which is more than four times the national rate.
According to latest report from the New York City Department of Health and Mental Hygiene, Hondurans living in New York have the third highest rate of new infections among Hispanic groups, trailing only immigrants from Haiti and Trinidad and Tobago.
According to Colon, this stigma often prevents Hondurans from getting the help and education they need.
"Hondurans don't like to deal with it," said Colon. "When we first started, no one would show up to the AIDS workshops. It's been a problem ever since we started. We would have HIV workshops and programs and call them 'women's forums' or 'youth conferences.' I knew we had to do other stuff in order to get people to show."
Colon said that she believes that fostering a sense of community among the Honudrans in New York, especially the Garifuna population, is the best way to reach them.
"We are losing our language, not just here but in our country of origin," said Colon. "It's part of our self-esteem. If you have it, then you will take care of yourself."
There is also a practical reason for offering the classes. "We build a network that we wouldn't be able to," explained Bartholomae Guerrero, a volunteer coordinator with the organization. "They come here and it raises their awareness. And we use the registration information to contact them for our HIV programs."
Luis Ricardo Rodriguez, a Senior Educator with Bronx AIDS Services, agrees that this approach is necessary, especially for the Honduran community. "It's a good start. However, they need to be more proactive once they bring people together. They have to make sure people get the information and education they need," said Rodriguez.
The organization also provides immigration counseling and is active in promoting human rights. The 10-member staff is comprised of volunteers and the organization is trying to get additional funding through UNICEF and the Ford Foundation. Colon, however, is not worried about spreading her already thin resources even more.
"We have many problems in our community. AIDS is just one of them," said Colon. "We don't have many organizations to help our people, and if I don't do it, then no one else will."
Originally posted at the New York Globe.