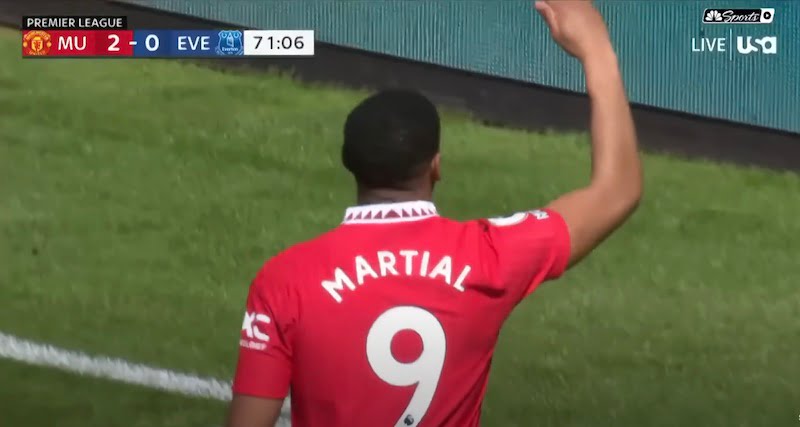 Ji-sung Park had a great scoring record against Arsenal. Chicharito always seemed to find the back the net against Chelsea.
And Anthony Martial owns Everton.
If there were any doubt about that last statement, look no further than this weekend's 2-0 victory against Everton. Martial was only making his third appearance after a long injury layoff. Yet he wasted no time getting on the scoresheet, finishing at close range to ensure the points for United in a match they should have won by 4 or 5. The score raised Martial's record to 8 goals in 16 appearances against Everton (to go with 4 assists).
There were plenty of other things to feel good about:
Everton in the second half of the season has sometimes been a tricky fixture for United. For instance, in 2010, they lost 3-1 at Everton and ended up losing the League by a point. Then, in 2014, a 2-0 defeat at the hands of David Moyes' old employers helped convince his new ones to give him the sack. In 2019, Ole Gunnar Solskjaer's squad got shellacked 4-0 at Goodison Park, and last April, Ralf Rangnick's United looked like they were already preparing for his departure when they meekly lost 1-0. Luckily, United made easy work of their Merseyside rivals this time.
United's performance against Everton followed a strong showing in midweek against Brentford. In both matches, United showed the kind of control and dominance that had been completely absent from their 2-0 defeat at Newcastle last weekend.
Bruno Fernandes played well in a deeper position, helping dictate play and giving Marcel Sabitzer freedom to focus more on the attack, where the Austrian thrived. The much-maligned assistant captain has been able to play multiple positions this season, and his versatility will give Erik ten Hag some interesting options moving forward.
Christian Eriksen made his long-awaited return from injury. Originally expected to be out until May or so, Eriksen worked his butt off to get back as soon as possible. With Sabitzer starting to play well, Scott McTominay finding his scoring touch, and Casemiro set to return after his four-match suspension, United's midfield options are suddenly looking pretty good.
It wasn't all good, though. Marcus Rashford limped off with an apparent groin injury and could miss a few weeks. So hopefully Martial's goal on Saturday is the start of an uptick in form that can help the club weather yet another loss to a key player through injury. Or for the upcoming slate of matches, maybe ten Hag can hypnotize Martial into thinking that he's still playing against Everton. He'd definitely earn Manager of the Year.