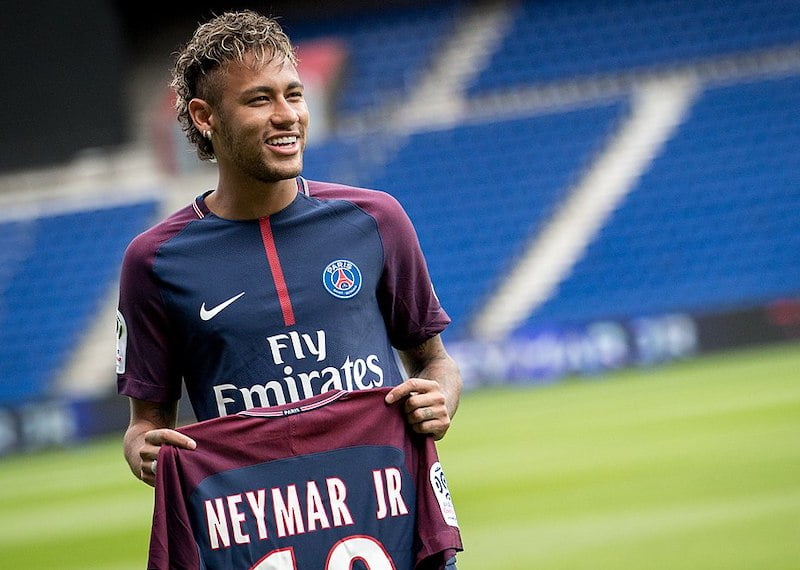 Here are few things that most football fans can probably agree on:
The Euros were better before they expanded the field. The World Cup is going to suck when they do it in 2026.
Five substitutions in a match is actually a pretty good rule change.
Neymar is massively, extremely, hopelessly overrated.
A lot of pundits, players and fans will argue that last point until they're blue in the face. This despite his incredible resume, his overflowing trophy case (he's won everything there is to win except the World Cup and Copa America), his status as Brazil's all-time leading goal scorer (depending on what Pelé's official record is), and some truly, jaw-dropping skills and awe-inspiring goals. His goal scoring record at Barcelona (105 goals in 186 matches) is better than Ronaldinho's (94 goals in 207 matches) and his goals-to-games ratio is better than those of Ronaldinho, Rivaldo, Patrick Kluivert, Hristo Stoichkov and David Villa.
Nevertheless, if you Google "Neymar is overrated," you'll get a ton of columns, blog posts, YouTube videos, listicles, podcasts and Q&A pages asking things like "Is Neymar overrated?" and "Why is Neymar overrated?"
So when stories popped up this week about Manchester United potentially renewing its long-running interest in the Brazilian and finally bringing him to Old Trafford, let's just say it inspired up lots of reactions.
Erik ten Hag even felt the need to address the rumor rather than simply dismiss it or decline comment. "When we have news we will tell you," he said during his press conference in advance of United's 4-1 victory over Chelsea that clinched Champions League football for next season and sent Liverpool's Mo Salah into a meltdown.
The arguments against Neymar are obvious and well-worn. The primary reason why so many people consider him to be overrated is because he was so highly touted as a young player and had so much hype around him that, short of having a career a la Pelé (a player he was often compared with), he was never going to be able to live up to it.
While he's been undoubtedly a great player, you could definitely argue that he hasn't come close to living up to the hype. For one thing, there's never been a point in time where you could say, with a straight face, that Neymar was the best player in the world — not with Lionel Messi and Cristiano Ronaldo doing their thing. While there's no shame in being, at best, the #3 guy in the world (he finished third in the Ballon d'Or voting a couple of times — behind Messi and Ronaldo in 2015 and Ronaldo and Messi in 2017), for most of his time in Europe, there have been plenty of players as good or better than him — including on his own team.
That brings us to the second point. While he's won everything there is to win at club level in Europe, he's never been the best player on his team, playing in Messi's (and arguably, Luis Suarez's) shadow at Barcelona and Kylian Mbappe's at Paris Saint-Germain. Being seen as an overqualified second-banana is, undoubtedly, another major reason why he's seen as overrated.
Then there's one area where he's not overrated. When it comes to bringing drama, there are few who bring more of it than Neymar. His controversial 2013 transfer to Barcelona triggered a tax fraud investigation after it was discovered that his reported €57.1 million fee was actually €86.2 million, with nearly €40 million going to his parents.
His 2017 move to Paris Saint-Germain was even more acrimonious and raised questions about state-owned teams and financial doping in the era of Financial Fair Play. After PSG triggered his €222 million release clause, La Liga took the unprecedented step of refusing the payment, arguing the Qatar-owned club was in violation of FFP. "[PSG's] accounts show more commercial income than Madrid or Man Utd. Well, that's impossible," La Liga president Javier Tebas said.
After the move eventually went through, Barcelona sued him, demanding that he return an €8.5 million loyalty bonus he was paid shortly before he PSG triggered his release clause. The lawsuit was finally settled in 2021, four years after he joined Paris and two years after he almost rejoined Barcelona.
And how has his time at PSG been? Well, much like the man himself, it can be viewed as both a success and somewhat of a failure. PSG have won a ton of domestic trophies, including a clean sweep (Ligue 1, Coupe de France and Coupe de la Ligue) in 2017-18 and 2019-20. But that's not much of an accomplishment, considering PSG dominates Ligue 1 even more than Bayern controls the Bundesliga.
They've undoubtedly come up short in the Champions League, with some spectacular flameouts over the years (including one against Man Utd in what was Ole Gunnar Solskjær's finest moment in charge). They did manage to get to the Final in 2020, losing 1-0 to Bayern in a match that could have gone either way. Since then, they've regressed, losing in the Round of 16 in the last two seasons, despite having the combined talents of Messi, Mbappe and Neymar.
More recently, it looks like the PSG fans have started to turn on Neymar. Whether it's because of his potential departure or the fact that the team seems to play better without him, it's clear that Neymar has become an albatross around the neck of PSG. It might be time to move on, and a new club and league could re-invigorate him, allowing him to silence his critics once and for all.
Then again, it's possible that we've already seen the best from him and all that remains is the slow, sad decline of a player whose body is breaking down. Since joining PSG in 2017, Neymar has missed over 100 matches for the club with various knocks and bruises, including ankle problems that only seem to be getting worse. According to Football365, during his time at the club, he's been unavailable for 40% of PSG's matches. Worse, he seems to have a habit of getting hurt in February/March — the height of Brazil's Carnival season.
Hey, Romario, Ronaldo Nazario and Ronaldinho didn't let partying get in the way of their careers, either — but those guys won the World Cup. Neymar's injuries have, undoubtedly, played a major role in his inability to lift the prestigious gold trophy. He was playing well at the 2014 tournament, where Brazil was heavily favored to win on home soil, before he suffered a serious injury in the quarterfinals after a Colombian defender kneed him in back. Without their talisman, Brazil then suffered a humiliating 7-1 defeat in the semifinals against Germany and then lost the consolation match against Louis van Gaal's Netherlands side in what must have a been a pretty traumatic turn of events for the soccer-mad nation. He also sustained injuries leading into the 2018 and 2022 World Cups that saw Brazil bow out early in the knock-out rounds.
Obviously, it's not entirely his fault that he's been unable to lead Brazil to a World Cup victory. Lots of great players never come close to winning it. Cristiano Ronaldo hasn't been able to do it, and until 2022, neither had Messi. Johan Cruyff, Michele Platini, Zico, Gabriel Batistuta, Alfredo Di Stefano and Ferenc Puskas all retired without ever having won it. Ditto Peter Schmeichel, Oliver Kahn and Lev Yashin. Heck, Eric Cantona, Ryan Giggs and George Best never even played in a World Cup match.
But it's a bad look for a guy who was supposed to be the next Pelé and whose move to PSG shattered the existing transfer fee framework and established our current era of inflated fees. It also adds to the narrative that he's never been able to win as the top guy on the team. Throw in his age (he's 31), baggage and injury history, and United ought to run far away from this potential transfer.
Then again, maybe Erik ten Hag sees something in Neymar that could help the team going forward. After all, United need a reliable source of goals, and when he's healthy he's one of the best around. Or, maybe United, for once, are content being a stalking horse for a player so that he can drive up his price and sign a big contract with someone else — maybe Real Madrid or a direct rival like Chelsea or Newcastle United.
Either way, United and Neymar at this stage would be a strange marriage for all parties involved. It would show that United hasn't learned a thing from its star-chasing days and it would call into question just who is calling the shots at the club.
Until then, it's safe to put this one under the "Silly Season" file. Unless it isn't and there's plenty of smoke to go with this fire. In which case, buckle up. As is always the case with Neymar, it'll be a bumpy ride.