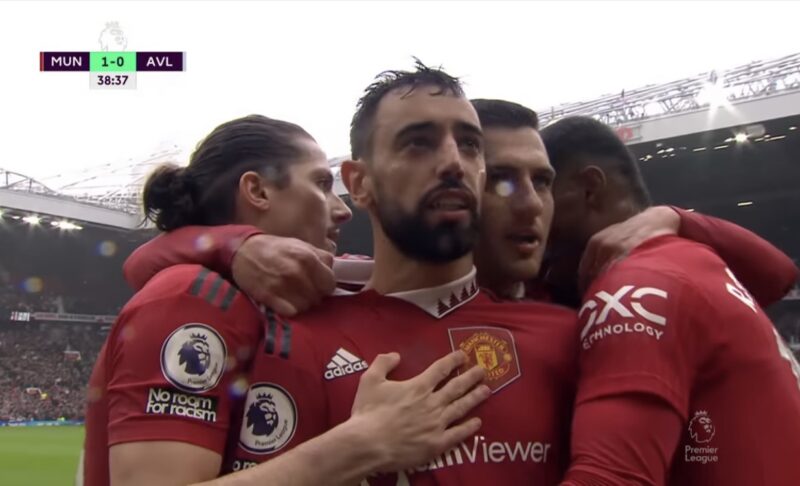 If there were still any doubts about Bruno Fernandes' captaincy credentials, this past week put an end to them.
Last Sunday, he sustained an injury during United's shootout win over Brighton in the FA Cup semifinal. Evidently, it was serious enough that he actually had to be substituted— only the sixth time in 50 matches this season where he didn't go the distance. Worse, he was pictured wearing a protective boot and using crutches the next day. Surely this meant he was set to join United's lengthy injury list, right?
Yet, there he was on Thursday, starting against Tottenham Hotspur. United ended up dropping two points after throwing away a 2-0 lead and settling for a 2-2 draw against a team on its second interim manager. Erik ten Hag called out his players for not giving 100%, but made sure to praise his stand-in captain for gutting through the match.
"A big compliment to Bruno, he absolutely did not wish to miss this game – and every game. I think he is the example, that you have to suffer, have to decide if you wish to sacrifice, if you want to play or don't play, if at this level you want to achieve something," ten Hag said after the match. "He was important in this game as well, and hopefully others in the team can see him as an inspiration and do the same."
On Sunday, Fernandes started against Aston Villa and wore the armband in place of Harry Maguire, who remained rooted to the bench despite long term injuries to Raphael Varane and Lisandro Martinez. He even played out of position, moving to the right wing in place of Antony. Not only had he played well there in a 4-2 win against Villa in the League Cup in November, but he fit with what United tried to do against Unai Emery's side on Sunday. Ten Hag's main tactic was to play passes over the top of Villa's high defensive line, so Fernandes' main role was to make smart, well-timed runs behind the defense from the right.
The tactic worked to perfection for the only goal of the match. Casemiro played a thumping header that easily got past the high line to a barely on-side Marcus Rashford. The United forward got a shot off that forced a weak save from Villa goalkeeper and World Cup hero Emiliano Martinez that bounced into the path of the hard-charging Fernandes, who had made the run towards goal from the right. Fernandes then scooped it in (with a slight deflection off a Villa defender) for his sixth league goal of the year and 11th in all competitions. It was also his 100th Premier League goal, as well as his seventh in 8 games against Villa.
The goal also produced a pretty bizarre goal celebration that stole most of the headlines. Fernandes ran over to the visiting fans and stared them down with a blank look on his face. Whereas some will grab their badge and thrust their hips, tell the fans to shush, or do the Hulk Hogan ear cupping taunt (Jose Mourinho was always good for these things), Fernandes decided to — look at them?
Either way, this fixture seems to be becoming personal to Bruno. Last season, Martinez made headlines when he taunted Fernandes before a potential match-winning penalty, telling him Cristiano Ronaldo should be taking the kick, instead. The normally sure-footed Fernandes missed and Martinez celebrated wildly — something he, evidently, decided was going to start doing to everyone.
Then, in the reverse fixture last season, Bruno got revenge when Martinez committed a howler and let in a soft shot between his legs for the opening goal. Fernandes added another before Villa came back to earn a 2-2 draw.
This season, Fernandes missed the first league match because of a suspension and then earned the ire of Villa fans by seemingly taking a dive during the aforementioned League Cup match.
Perhaps with that in mind, the Villa fans subjected him to lots of boos and jeers on Sunday. At one point in the first half, he went down from a strong challenge and lay on the pitch for a while. Villa fans, to say nothing of the rest of the league, assumed it was more theatrics and started booing and jeering him. Forget the fact that he's a week removed from hurting his ankle and is clearly playing through injury.
"Obviously they probably don't like to play against me, but it is what it is, it's football,"he told MUTV after the match. "I'm OK with that. They can enjoy the game in the way they want. I would prefer them to come and support their players instead, rather than to be focused on me. But if they think it's better to be focused on me, than their players, then it is OK. I don't mind at all."
There will always be detractors and doubters. At various points, his own teammates seemed annoyed with him and Casemiro even upbraided him after full time — not the first time he's done that this year — for needlessly giving the ball away in a dangerous place and giving Villa a scoring opportunity right at the death. For all of his strengths as a passer and playmaker, Bruno still has a tendency to give the ball away — especially via fancy flicks that, more often than not, end up getting cut out by defenders. Perhaps that's why Paul Scholes said after the match that Bruno couldn't be captain because he isn't a calming influence and hasn't shown he can lift the spirits of his teammates when they need it.
But a captain can also lead by example, and by playing through pain and giving his all, Bruno is definitely doing that. I'll take that in a captain any day of the week.