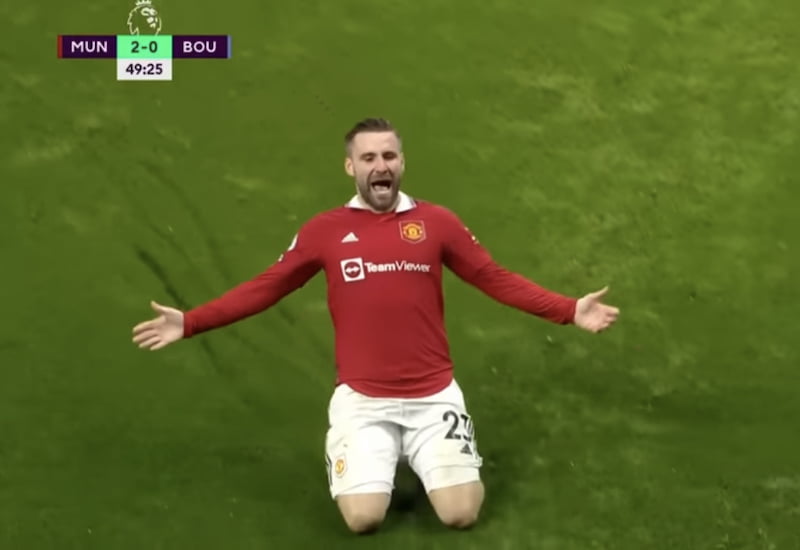 Shawlo Maldini? Shawnis Irwin? Shawtrice Evra? Shawley Cole? Actually scratch that last one. No self-respecting Manchester United fan would accept that nickname.
There have been several moments over the past decade where a more apt nickname for Luke Shaw would have been Shawlexander Buttner or Shawron Borthwick-Jackson. And like those namesakes, there have been times where it looked like Shaw was going to follow them to the exits.
Since moving to the club in 2014 for £27 million, then the highest transfer fee ever for a teenager, the only thing consistent about Shaw has been his inconsistency.
His debut season was marred by injuries, exacerbated by what then-manager Louis van Gaal attributed to a lack of fitness. Shaw responded positively and came back the following season in great shape, only for his positive start, and his entire career, to get completely derailed by a horrific double-leg fracture against PSV Eindhoven in the Champions League. The injury was so bad that he nearly lost his leg and subsequent managers have said he still suffers psychological and physical effects from that terrible night in Eindhoven.
He came back, but immediately ran afoul of new manager, Jose Mourinho. The Special One held nothing back, often questioning his intelligence and harshly criticizing him for the slightest mistakes (something he's continued to do since leaving the club). Whether Mourinho was still pissed Shaw chose United over his Chelsea team in 2014 or he was doing his usual thing and singling out a player or two on his team to feud with, it seemed a matter of time before Shaw got sent to train with the reserves before an inevitable move to Everton, West Ham or back to Southampton.
Instead, Shaw persevered and had a good year in 2018-19, winning both the Players' Player of the Year and Sir Matt Busby awards. He even outlasted Mourinho, who departed in December 2018 by "mutual consent." However, Shaw's double-winning individual season was more a case of picking the least bad option, and spoke to the lack of quality within that United squad more than anything else.
But then came another swoon, and Shaw was so mediocre in 2019-20 that United finally decided to get some competition for him, signing the more attack-minded Alex Telles in September 2020. A superior crosser and passer, Telles' signing seemed to confirm that Shaw's offensive skills were lacking. Surely, Telles would supplant the England international and force him to join a mid-table club to try and salvage his national team career.
Instead, the competition brought out the best in Shaw, and he responded with another bounce-back season, notching a career-high six assists in all competitions en route to winning the Players' Player of the Year Award in 2021.
Shaw then carried over that form with a brilliant Euro 2020(1) campaign where he was one of the best players in the tournament. He even earned the nickname "Shawberto Carlos," after legendary left back Roberto Carlos — and unlike the case of Lingardinho, Shaw's moniker was not an ironic one. Even Mourinho had to concede that Shaw had been one of the best players at the tournament, and his subsequent omission from the UEFA Team of the Tournament was greeted with outrage and disbelief.
Unfortunately, he was unable to maintain that level of class once United's 2021-22 season began. Despite his Euros hangover lasting the entire season, he started every match for Ole Gunnar Solskjær before the Norwegian was sacked in November 2021. Under Ralf Rangnick, Shaw continued to start when available, which wasn't often, since he missed most of the second-half of the season with various injuries including a bout with COVID-19.
When Erik ten Hag took over, it looked like Shaw's days as a sacred cow were over. Ten Hag brought Tyrell Malacia over from the Eredivisie and Shaw spent nearly a month-and-a-half on the bench. When Malacia's form inevitably dipped (after all, not only is he still a kid, but he's living in a new country and playing for one of the biggest teams in the world), Shaw stepped in and immediately showed some of the form that made those Roberto Carlos comparisons at least somewhat merited.
Since then, he's been one of the team's best and most important players. He's even managed to establish himself as a reliable center half, playing well enough to earn the start against Manchester City last month, where he coped well with Erling Haaland. He also got the nod for today's 2-2 draw at Barcelona ahead of Maguire and Victor Lindelof, and did a decent job against Robert Lewandowski. His left-footedness suits the way ten Hag likes his left-sided center halves to play, and his quickness allows him to cover more ground than a player like Harry Maguire — a must in a high-pressing system.
Meanwhile, he continues to improve on the offensive end. This season, he has a goal and three assists — two of those have come at important times for the club. He set up Casemiro's last minute equalizer against Chelsea to save a point earlier in the season. Then, against Leeds on Sunday, he played well as center half for most of the match before moving to his usual spot on the left and immediately assisting Rashford's match-winner.
The only real blight on his record this season was the recent 3-2 loss to Arsenal, where he got starched by his "little brother" Bukayo Saka — although, as others have pointed out, Shaw got very little cover from Marcus Rashford and Scott McTominay and probably missed having the suspended Casemiro out there.
Otherwise, Shaw has been one of the best players at the club this season and one of the many reasons why United have improved so much in such a short amount of time. If current form holds, he probably won't win any postseason awards (Casemiro and Rashford will probably battle it out for the Busby/Players' Player awards). But that shouldn't detract from what has been yet another impressive bounce-back from Shaw.
"The good thing with this manager is that if you're not playing well then you won't play. In the past that's not been the case but I think the good thing about this manager is that he's keeping everyone on their toes," Shaw said about Erik ten Hag in October.
Iron sharpens iron, and maybe Shaw needed competition in order to hit his peak. Now the challenge will be to maintain that high level consistently from year-to-year. Can he do it? The jury's still out on that…