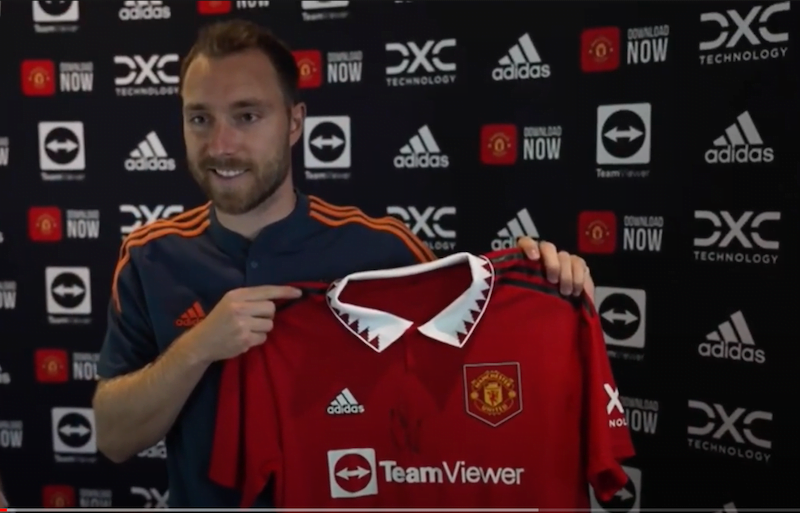 Let's take a break from all of the "will he/won't he" drama surrounding Frenkie de Jong, Antony, Cristiano Ronaldo and all of the others that will, inevitably, be linked to Manchester United prior to the closing of the transfer window.
Instead, let's celebrate the signing of Christian Eriksen. One of the best creative midfielders in Premier League history, Eriksen is the second player to have 10 or more assists in four consecutive league seasons after United icon David Beckham.
Let's celebrate the fact that he's also a good goal scorer, hitting double digits in five out of six full seasons at Tottenham Hotspur. In 2018, he scored one of the fastest goals in league history against United, inspiring a famous 3-0 Spurs victory and one of then-manager Jose Mourinho's most infamous post-match meltdowns (and that's saying something). At least he won't be scoring against us anymore.
And, of course, let's celebrate the fact that he's still alive.
A lot of people (myself included) thought he was done playing football after that frightening scene at Euro 2021 when he suffered cardiac arrest during Denmark's opening match against Finland. After all, a similar thing happened to Fabrice Muamba in 2012, and he never played competitively again. But thanks to an Implantable Cardioverter Defibrillator surgically implanted inside his body as well as new research showing that pro athletes with ICDs face low risk by continuing with their careers, Eriksen persevered and made an inspirational comeback.
He joined newly-promoted side Brentford in January and played well, notching a goal and four assists in 11 league matches. Despite the small sample size, Eriksen actually outperformed Bruno Fernandes when it came to minutes per goal or assist and chances created per 90 minutes. During the period from February 2022 until the end of the season, Eriksen also outshone Paul Pogba, matching him in goals and contributing two more assists than soon-to-be-departed Frenchman.
Time will tell whether he can reproduce or even surpass that form over a full season. It's also unclear where he'll be deployed. Will he play deeper so that he and Fernandes can be in the lineup together? Will his ability to beat the low-block (United's nemesis over the last few years) and be more careful with the ball allow him to supplant Fernandes? Will he play out wide, which he did at Spurs on occasion? Will he give United a more consistent threat on set-pieces than Ronaldo (who rarely scores from free kicks anymore) or Fernandes (who only has two free kick goals since joining United)?
As with Raphael Varane last year, Eriksen is a player I've wanted to see in United colors for a long time. Here's hoping his presence helps the club moving forward.