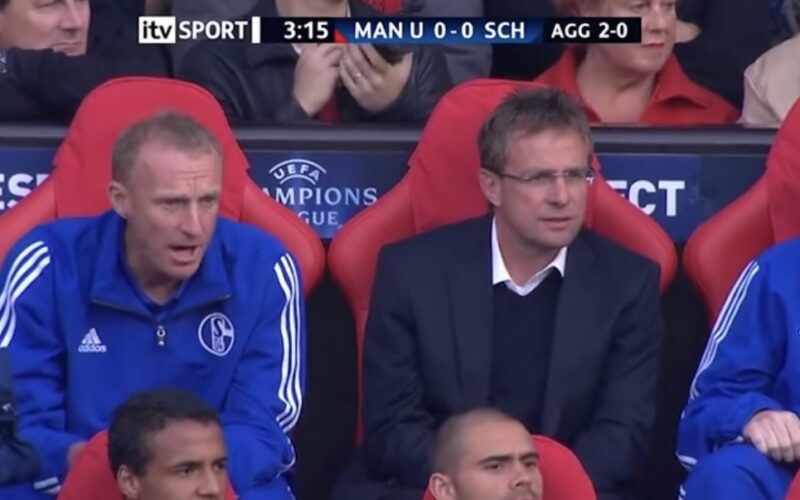 After Manchester United sacked Ole Gunnar Solskjær, there were all sorts of rumors flying around linking the club to the best managers available (or not available— at least not until the end of the season).
Brendan Rodgers was supposedly house-hunting in Cheshire. Zinedine Zidane was, reportedly, the choice of the Glazers. Or maybe it was Mauricio Pochettino, who United supposedly made a play for but were turned down. Or Luis Enrique of the Spanish National Team, who laughed off reports linking him to the job. Or fellow Barca alum Ernesto Valverde, who reportedly met with United brass. Or United legend Steve Bruce.
Ok, it was never going to be Steve Bruce.
But one name stood out: Ralf Rangnick. (Or as my wife calls him, "Ralf Ragnarok.")
On Monday, United formally announced Rangnick as interim manager for the rest of the season. According to the terms of the deal, Rangnick will move into a consultancy role after the season, where he would, presumably, have a say in recruiting players and picking the next manager.
Rangnick was distinctive for two, somewhat contradictory reasons. On the one hand, "The Professor" is widely regarded as one of the best tacticians and team builders in the game. Rangnick helped popularize the gegenpressing tactics that he and his many others, most notably Liverpool's Jürgen Klopp and Chelsea's Thomas Tuchel, have employed to great success. Rangnick's philosophy and eye for talent allowed him to create some excellent, exciting teams at Hoffenheim, Schalke, and most notably, Red Bull Leipzig. In fact, his 2011 Schalke team overachieved and made the Champions League semifinals where they lost to Sir Alex Ferguson's last great Manchester United team.
It's high pressing, counter-pressing football. I would say fast, proactive, attacking, counter-attacking, counter-pressing, exciting and above all, also an entertaining style of football. We are not big fans of square and back passes. The goalkeeper should have the fewest contacts because in every league in the world, the goalkeeper is not the best football player on the pitch. So for that very reason, he should not have the highest amount of contacts. We do not like back passes to the goalkeeper, and neither do we like square passes.

Ralf Rangnick about his Leipzig teams
On the other hand, Rangnick was, by far, the least glamorous name on United's reputed managerial list (depending on whether Steve Bruce was really on it, or if it was just wishful thinking from Bruce's agent). That's mainly because his trophy cabinet is fairly empty for a man of his stature. Sure, there are mitigating factors at play. For one thing, if you're going to manage a club in Germany that isn't Bayern Munich or Borussia Dortmund, then you'll struggle to win trophies. And so it was for Rangnick— his 2011 Schalke team won the DFB-Pokal, earning him his only major piece of silverware (not counting the 2011 German Supercup, which was also won by Schalke).
Rangnick could have put himself in position to win more by moving to a big club. So then why is he only making the move now? Based on his career trajectory, it seems like he's looking more for directorship roles now, which is what drew him to Moscow to take over Lokomotiv. It's a hard sell for a lot of big clubs to cede that level of control to anybody, let alone someone who has never won a league title.
But a couple of things have strengthened Rangnick's hand. Firstly, Klopp and Tuchel have taken the Premiership by storm, with the former winning a league title and a Champions League crown and the latter beating Pep Guardiola and mighty Man City in last year's Champions League Final. United's board, no doubt, saw the success their rivals had in hiring Germanic coaches and decided to get the guy who influenced them. It helps that United's director of football, John Murtough, has long admired Rangnick and has reportedly tried to lure him before.
Additionally, Manchester United are in desperate need of identity and innovation — two areas Rangnick can help address. Long criticized for living in the past, United have fallen behind their rivals when it comes to the quality of their facilities, scouts and data analytics team. If Lokomotiv's farewell message to Rangnick is any indication, The Professor did a lot during his short tenure to modernize the team's facilities and processes.
When it comes to playing style, United's lack of identity is even more obvious. In the post-Ferguson era, the team has veered from David Moyes's reliance on set plays and crosses to Louis van Gaal's obsession with possession-for-possession's-sake to Jose Mourinho's pragmatic, conservatism to Solskjær's hodgepodge of platitudes, counterattacking, and unsuccessful pressing.
In that regard, Rangnick should bring some coherence to United's pressing.
You need to be aware what kind of football do you really want to play? I'm not talking a little bit of this, a little bit of that, maybe a little bit of that, a little bit of pressing. I mean, come on, what is a little bit of pressing? A little bit of pressing is like a little bit pregnant. Either you are pregnant or not. Either you want to play pressing or not. But please, not a little bit of pressing.

Rangnick on playing philosophy.
And hey, if Klopp's and Tuchel's reactions to Rangnick's appointment are any indication, then United have bagged themselves a winner. Who'd have thunk that this United team would actually make a sound footballing decision?