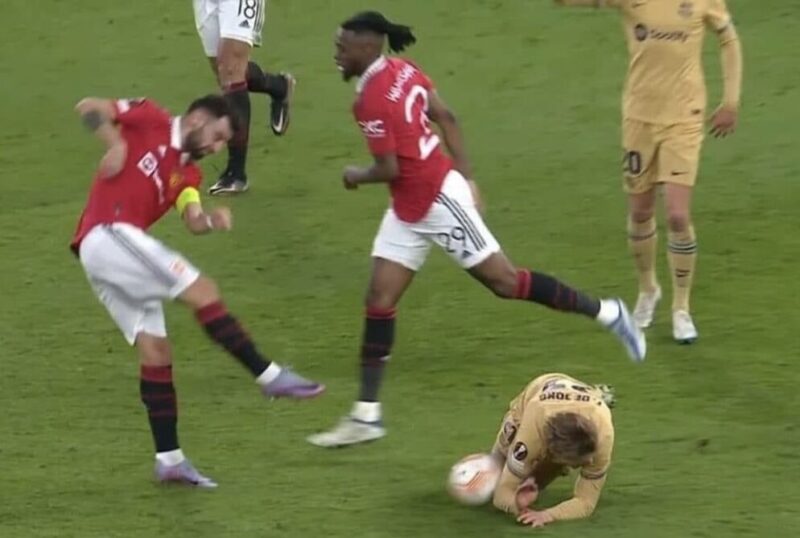 So, let's recap:
One of the main reasons Frenkie de Jong reportedly turned down an €85 million move to Manchester United over the summer was because he didn't want to play in the Europa League.
Sure, there were other reasons. Barcelona were his "dream club" and he and his girlfriend were happy living there. He's owed some £17 million in deferred wages and the club wanted him to forfeit all or part of it in the event of a transfer. United looked like a total mess in the summer and there was no guarantee Erik ten Hag, his former manager at Ajax, would be able to make the transition from the Eredivisie to the Premier League.
Those were all compelling reasons. But the main one seemed to be the Europa League thing. De Jong wanted to play in the Champions League and going to United would be a step down for him (Cristiano Ronaldo, basically, felt the same way). Despite the fact that Barcelona ended last season in the Europa League, de Jong felt he was too good for UEFA's second-tier competition and wanted to avoid it all costs.
Well, he got his wish. De Jong finally made his debut at Old Trafford yesterday, as United dumped Barcelona out of the Europa League, winning 2-1 to take the tie 4-3 on aggregate. United were comprehensively better than Barcelona over the course of both legs and probably should have won by three or four.
In doing so, they gave de Jong plenty of questions to ask himself. For instance:
(more…)