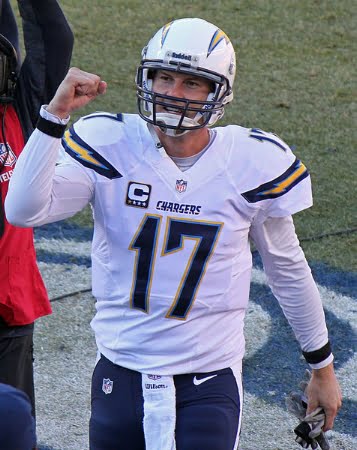 From the Archives: In honor of my least favorite quarterback in the NFL, I thought I'd recycle this article I wrote for a sports humor website a couple of years ago. I was inspired to write it after Philip Rivers taunted a bunch of Indy fans during the 2008 NFL Playoffs. Since the Colts and Chargers are the top two seeds in the AFC, maybe history will repeat itself this year?
Eight-year old Timmy McCormick was suffering from cancer and was told he had about year to live. He was in terrible pain and could barely muster the energy to get out of bed, let alone go outside to play with his friends. The only time he spent out of bed was to go to the bathroom to throw up, a side-effect of his chemotherapy. Timmy was depressed and in low spirits. He had lost all of his hair. He had no friends to play with. He had almost no shot at survival. Timmy did not have much to live for and both he and his family knew it.
The only time he seemed to be able to forget his pain and be happy was when he watched his beloved San Diego Chargers play football. His parents signed him up with the Make-A-Wish Foundation and Timmy, a loyal San Diego Chargers fan, only had one wish. He wanted to spend a day with the quarterback of the Chargers – his idol, Drew Brees.
Unfortunately, because of a long waiting list, as well as a backlog of wishes, Brees had signed with New Orleans by the time that Timmy's wish request was processed. Timmy, still wanted to hang out with San Diego's quarterback. So he readily agreed when the Make-A-Wish Foundation offered to send Philip Rivers. The Chargers quarterback met up with Timmy a few weeks ago in order to fulfill the boy's wish. He came to Timmy's house and gave Timmy some autographed balls, helmets, and jerseys. He also posed for some pictures with Timmy and threw the ball around with him in the backyard. However, what started as a joyous meeting between a young boy and his football role model quickly turned sour.
(more…)