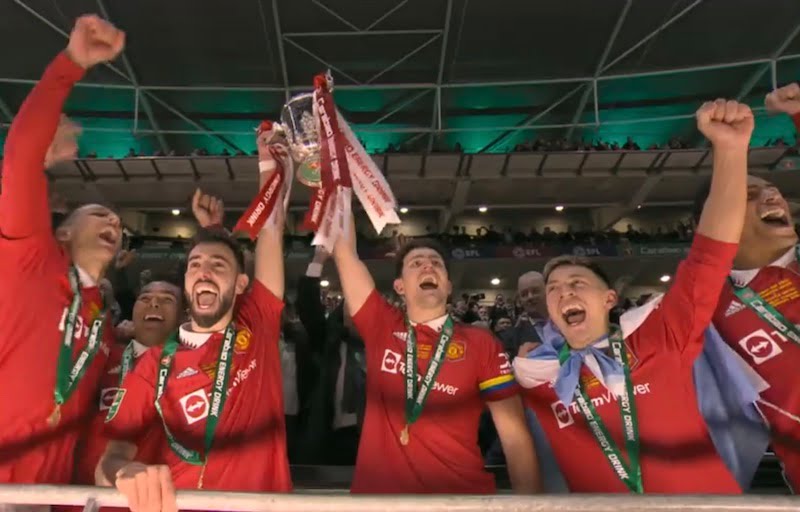 On Sunday, February 26, 2017, Manchester United won the League Cup at Wembley Stadium under first-year manager Jose Mourinho. Despite being second-best for much of the match, United prevailed thanks to goals from Man of the Match Zlatan Ibrahimovic, the serial winner they signed during the previous summer, and academy product Jesse Lingard, as well as some timely saves from all-world keeper David de Gea.
Exactly six years later, United ended their long trophy drought in an eerily similar fashion. United, under first-year manager Erik ten Hag, were second-best for much of Sunday's 2-0 victory over Newcastle United. However, they managed to prevail thanks to goals from Man of the Match Casemiro, the serial winner they signed during the previous summer, and academy product Marcus Rashford, as well as some timely saves from all-world keeper David de Gea.
Let's hope the parallels end there.
After all, 2017 ended up being a false dawn in what eventually became six years of dark times at United. Mourinho would add the Europa League title a couple of months later, but that would be it.
Since then, United have had only two real chances at silverware. In 2018, United fell to Chelsea in the FA Cup Final, giving Mourinho a rare loss in a cup final because his old team played his style of football better than his then-current team. Three years later, United lost in a dreadful shootout against Villarreal in the Europa League Final that laid bare Ole Gunnar Solskjær's limitations as a tactician. United finished a distant second in the league a couple of times, but who knows? Maybe if Manchester City get stripped of thier silverware, at least one of those trophies might come to Old Trafford by default.
Otherwise, it's been slim pickings — which makes the team's turnaround this season all the more impressive. United remain in the hunt for three more trophies: the FA Cup, Europa League and Premier League — although the league title is highly unlikely. In contrast, at this point last season, they were out of three completions and on their way out of the fourth.
"Varane, Casemiro, de Gea, they know how to win trophies," ten Hag said after the match. "You need such lads on the pitch to point the team, coach the team, organise the team. Not only from a technical perspective, but especially a mental perspective. It's so important."
Indeed, it can't be emphasized enough that this team desperately needed leadership and a winning mentality. De Gea is the only holdover from that last Premiership winning team (unless you count Phil Jones, who is still on the roster but has played a grand total of five matches over the last three seasons and was allowed to do commentary at Wembley for Sky Sports rather than sit with his teammates in the stands). Until Sunday, De Gea, Rashford, Luke Shaw and Anthony Martial were the only ones left on the team who knew what it was like to have lifted a trophy for United.
If you can't develop a winning mentality, then you might as well buy one. With Varane and Casemiro, United got two proven winners with excellent track records in finals (Casemiro has now won 17 of 18 cup finals for club and country; Varane is at 17 of 19). Predictably, both of them came up huge against Newcastle and helped push United over the line with their veteran know-how and experience.
Throw in Antony and World Cup winner Lisandro Martinez, who are used to winning things with ten Hag, and the currently-injured Christan Eriksen, who won Serie A with Inter in 2020-21 and multiple Eredivisie titles, and this team finally seem to have developed a winning mentality. For instance, the sign of a truly good team is when they can win despite playing poorly. At Wembley, United definitely were in smash-and-grab mode, playing poorly for long stretches of the match. Nevertheless, they never looked in danger of losing the lead. Whether it was United's defensive intensity and organization, or Newcastle's lack of cutting edge, the Reds got it done — as champions do.
Whether this is the start of a new, trophy-laden era at United or yet another false dawn remains to be seen. While the players certainly celebrated like they were genuinely happy and thrilled to have finally broken the drought (Wout Weghorst taking in the whole scene at full time was particularly moving — especially given how well he played during the match), they acted like they knew they would have to maintain or even increase their intensity going forward if they wanted to turn this into a habit. Look no further than Casemiro yelling at a celebrating Bruno Fernandes after the final whistle for not passing to a wide open (but possibly offside) Jadon Sancho in the dying moments of the match. It was an important and necessary reminder that anything can happen in stoppage time and championships can be won or lost on the margins. It's why Casemiro's won so many trophies and why this team will be hard to beat if everyone else can adopt that same mentality.
Another good sign is that it looks as if they aren't content to rest on their laurels. According to The Athletic, there were no major celebrations last night — instead, the players boarded an evening flight back to Manchester to get ready for training on Monday to focus on the next step in their trophy quest: an FA Cup match against West Ham United (the team that knocked them out of the League Cup last season).
Either way, it's a far cry from last season, when players reportedly complained about training being moved back a few hours and asked for vacations, among other things. Here's hoping the hard work pays off.