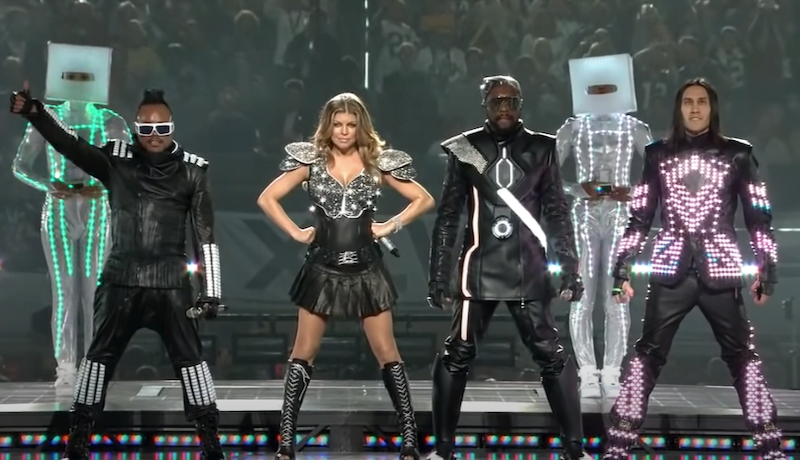 If you go by the Nielsen ratings (which measures households), 19 of the 30 highest-rated programs in United States history are Super Bowls. If you look at average viewership, then the big game accounts for 28 of the top 30.
Either way you slice it, the Super Bowl is a proven ratings draw that provides a massive stage for players, performers and ad buyers.
As such, it's no wonder that the Super Bowl halftime performance slot has become a highly sought-after gig for many musical acts.
When done right, the show can transcend the game and become an indelible part of the zeitgeist. In 2002, for instance, U2 gave a moving performance memorializing the people who lost their lives in the September 11 attacks and helped provide a moment of healing for a nation still in mourning. Prince, Bruce Springsteen, Tom Petty, Madonna and Beyoncé reaffirmed their status as superstars while younger contemporaries like Lady Gaga, Katy Perry and Bruno Mars made a case for themselves to join their ranks.
When done wrong, however, the show can kill off an artist's career. After all, it's one thing to have a bad night, but to do so with the whole world watching?
The Black Eyed Peas: Super Bowl XLV (2011)
For many reasons, this Super Bowl was especially painful for me. I still can't believe the Steelers let this one get away. Then again, considering this was the season where Ben Roethlisberger served a four-game suspension after being accused of sexual assault, it's a miracle the Steelers went as far as they did.
Compounding my (and most people's) misery was that year's halftime show. At first glance, the Black Eyed Peas were a perfectly cromulent choice to perform. After The Who's underwhelming set the previous year, Fox wanted a younger, hipper act, and the Black Eyed Peas were hot at the time. Since replacing original vocalist Kim Hill with Stacy "Fergie" Ferguson in 2002, the Peas had amassed 12 Top 20 singles (including three chart-toppers: "Boom Boom Pow," "Imma Be" and "I Gotta Feeling") and three multiplatinum albums. Sure, they had their fair share of detractors who accused them of being unoriginal sellouts. But they were undeniably successful and possessed an arsenal of fun, catchy party anthems perfect for the big stage.
A big reason was the band's leader, will.i.am, whose songwriting and production techniques were designed to create radio and stadium-friendly hits that were full of earworms and hooks. With his ability to blend different genres like pop, hip-hop, jazz and others (helped by a liberal use of samples and Autotune), will.i.am and his bandmates created something unique that defied classification. Not quite hip-hop, not quite pop, not quite R&B or rock, the Black Eyed Peas were really their own thing.
Although the flip side of that coin was that they didn't do anything particularly well. They were limited as singers, rappers and dancers (unless you're entertained by four people doing a synchronized "running man"). And their dependence on studio production meant their live performances could be hit or miss.
And, unfortunately for them, at Super Bowl XLV, they were decidedly a "miss." To be fair, their set was plagued by sound problems, as their background music was too soft, making their entire performance feel flat. Will.i.am, Taboo and apl.de.app tried to make up for it by shouting and barking their lyrics while an off-key Fergie did her thing (which, considering she was the most well-known member of the group at the time meant she took center stage for most of the set). Throw in their weird futuristic looking backup dancers who weren't so much dancing as they were marching in formation, and the whole thing just seemed boring.
Speaking of bored, special guest Slash, who performed with Fergie on a cover of "Sweet Child O' Mine," seemed as if he were trying to prove that he really could play those notes in his sleep. Usher also showed up for some reason, and at least he managed to inject some life into the proceedings.
Otherwise, the performance was a disaster. The Peas had barely made it back to the dressing room when critics, commentators and viewers started giving them scathing reviews. And they were right. Time has not been kind to this performance, and several outlets have called it the worst Super Bowl halftime show ever. And that includes "Up With People."
Worse, the Peas have never really recovered from it. A few months after the Super Bowl, the band announced a hiatus that lasted for four years. When they reunited in 2015, they did so without Fergie, who had decided to go solo (and expand her sports-performance repertoire to the NBA All-Star Game, where she memorably sang a breathless, sexy lounge version of "Happy Birthday, Mr. President" in 2018 — oh wait, sorry, it was "The Star Spangled Banner"). Subsequent albums and singles have failed to make much of a commercial impact, although the band has received some acclaim for its back-to-basics 2018 album "Masters of the Sun, Vol. 1."
Unfortunately, it looks like Super Bowl XLV really was The E.N.D. for the band.
The Blues Brothers: Super Bowl XXXI (1997)
There have been several movies based on Saturday Night Live skits. Most of them are bad.
The Blues Brothers is the exception to the rule. The 1980 film is such a classic that it convinced Hollywood it could take any SNL skit and make it into a blockbuster. More than 40 years later, only Wayne's World has come close to matching it (although, for the record, I loved MacGruber — but based on the box office returns and the reviews, I was one of the few).
The movie was so iconic that it's still one of Dan Aykroyd's most recognizable roles. As such, he didn't let John Belushi's 1982 death stop him from doing a sequel — the oddly titled Blues Brothers 2000 (the movie was released in 1998).
To promote the then-upcoming movie, the Blues Brothers headlined the halftime show at Super Bowl XXXI. Aykroyd was joined by film co-star John Goodman and an inferior Belushi, Jim, as they ran through the two songs that most people remember ("Soul Man" and "Everybody Needs Somebody to Love"). Despite having two talented actors and performers on stage (who are both in the upcoming movie), it's Jim Belushi (who is not in the movie) who takes center stage, singing his brother's parts and making us remember what a fantastic talent the late Belushi truly was. It's kind of like taking Greg Maddux out of the game and replacing him with Mike. Or in football terminology, it's like passing over Rob Gronkowski in favor of Dan or Chris.
The Blues then make way for more talented musicians, namely James Brown and ZZ Top, who deliver fine performances, albeit nothing we haven't seen from them before or since. It probably would have made more sense for either of those two to headline the show with a carve out for the Blues Brothers — but neither Brown nor ZZ Top had a movie to promote. Nor a nationwide chain of restaurants/bars. As a result, the whole thing was just a confusing, awkward mess that was neither entertaining nor interesting. (I couldn't find the entire set on YouTube, but it's available on other video sites, like this one.)
The show, predictably, got negative reviews and is still considered to be one of the worst halftime shows in Super Bowl history. Catherine Crier, a Fox News anchor, even had to defend herself from criticism for appearing in a mock news segment leading into the show where she "reported" on Elwood Blues' escape from prison.
Worse, it didn't seem to do much for the movie, which bombed at the box office and is considered one of the worst sequels in recent memory. The disastrous reception killed off the Blues Brothers as a commercial property for the foreseeable future. While Belushi and Akyroyd still perform together, on occasion, and a stage musical about the Blues Brothers ran in Chicago for a little bit, no sequels or reboots have made it to production in the 20-plus years since Blues Brothers 2000 (although several have been proposed, and a documentary is in the works).
I've never seen Blues Brothers 2000 all of the way through, but I've heard it's terrible. The movie did give us a "battle of the bands" scene at the end of the movie where the revamped Blues Brothers lose to the Louisiana Gator Boys, a supergroup made up of the likes of B.B. King, Eric Clapton, Steve Winwood, Dr. John, Billy Preston, Bo Diddly, Clarence Clemons, Isaac Hayes, Travis Tritt, Paul Shaffer and a bunch of others.
Actually, the Gator Boys wouldn't have been a bad halftime show choice.
Janet Jackson: Super Bowl XXXVIII (2004)
Fun fact: There were other performers at the Super Bowl XXXVIII halftime show besides Justin Timberlake and Janet Jackson. Jessica Simpson did the intro. P. Diddy showed up and did a cover of Toni Basil's "Mickey," only he replaced it with "Diddy." Nelly, in a weird bit of foreshadowing, told everyone that it was "getting hot in herre, so take off all your clothes." Kid Rock was there too, doing his thing.
But, of course, this is the moment everyone remembers. Janet Jackson, despite being the headliner, only ends up singing snippets of two of her songs. For the big finale, she has to sing backup to Timberlake on "Rock Your Body." As he moves towards her, he sings "gonna have you naked by the end of this song," and rips off part of her corset, exposing her breast on national television.
In retrospect, it really shouldn't have been a big deal. This was before HD became the standard, and Jackson's breast was barely visible on screen. Additionally, the cameras had done a good job cutting away as quickly as possible (Billboard timed it and found that Jackson's exposed breast was on TV for 9/16 of a second). When I watched the moment live, I wasn't even sure what had happened. The only reason I knew something had gone wrong was because the cameras didn't cut back to Jackson on stage for her to receive her applause.
But of course, people freaked out. CBS, who aired the Super Bowl that year, and MTV, who produced the halftime segment, issued apologies. The NFL threw MTV under the bus and said they would most likely never use them again. Janet Jackson did an apology tour, issuing multiple written, taped and live statements of remorse and taking the blame for the incident (and, more importantly, absolving CBS, MTV, and the NFL). Timberlake, whose initial reaction was flippant and dismissive, ended up issuing an apology that included the very first use of "wardrobe malfunction," a phrase that has, since, become part of our vernacular.
The government even got involved, as plenty of commentators, including Jackson herself, speculated that they were looking for a distraction from the worsening Iraq War. The FCC hit CBS with a record $550,000 fine and instituted sweeping new rules cracking down on nudity and sexual content on television. Networks also voluntarily instituted broadcast delays for live events, allowing them to cut away from, or beep out, potentially objectionable language or content. Some of those rules are still in effect to this day. Meanwhile, the NFL was clearly spooked by the whole ordeal and spent the better part of the next decade booking safe, family friendly acts, beginning with Sir Paul McCartney in 2005. It wasn't until Madonna appeared in 2012 that the NFL started using "edgy" acts again (although Madge had to promise that there would be no wardrobe malfunctions before the show).
By then, Jackson's career prospects were worse than Johnny Manziel's. Turns out, her many apologies didn't help and she ended up becoming a pariah. She was disinvited from the Grammys the following week (Timberlake, however, was allowed to perform) and lost out on a movie role. Meanwhile, Clear Channel Communications, which owned CBS and MTV, refused to play her songs or videos, dooming her album Damita Jo, which came out one month after Nipplegate. In fact, it was reported that then-CBS head honcho Les Moonves (who was forced out in 2018 after multiple allegations of sexual harassment) ordered that Jackson be blacklisted because he was furious she did not personally apologize to him. According to the Huffington Post, Moonves carried a grudge for years — he even reportedly expressed anger Jackson had signed a contract with CBS-owned Simon & Schuster to publish her 2011 memoirs.
Regardless of whether or not Moonves really did order a blacklist, Jackson's album flopped and her career never recovered. Damita Jo was her worst selling album since becoming a star with 1986's Control, and was her first record to produce zero hit singles since 1984. Subsequent albums have sold even worse and Jackson became persona non grata for several years.
Jackson later said she regretted putting herself in a position to take the fall for the incident and felt like Timberlake left her twisting in the wind — especially since he paid almost no price for his involvement. Timberlake's half-hearted apology was enough to protect and preserve his career (if anything, it made him look bold and edgy and took him far away from his boyband image). He ended up becoming one of the biggest pop stars in the world and got to play the Super Bowl halftime show again, headlining in 2018 and even doing a snippet of "Rock Your Body."
But karma may be catching up to them both. Jackson's career has bounced back in recent years. She got inducted into the Rock & Roll Hall of Fame in 2018 and has embarked on several massive and lucrative world tours over the past half decade. A number of retrospectives, essays and documentaries have made the case that she was unfairly blamed for the wardrobe malfunction, and the hashtag #Justice4Janet even trended on Twitter in advance of Timberlake's return to the Super Bowl halftime show in 2018.
As for Timberlake, he finally seems to be paying a price for his behavior in the early 2000s. After getting mixed reviews for both his performance at Super Bowl LII and his 2018 album, Man of the Woods, it's fair to wonder if Timberlake's magic is finally wearing off. More recently, he found himself on the defensive after last year's highly publicized Framing Britney Spears, which painted him in a not-so-nice light. He issued a belated apology for how he treated his one-time girlfriend, and even gave one to Jackson, as well. According to The Sun, he's gone so far as to delay his musical comeback because he's concerned about how he might look in Jackson's upcoming documentary.
So I guess we won't be getting "Cry Me a River, Part II" then…
Honorable Mention: Michael Jackson: Super Bowl XXVII (1993)
To be clear, the 1993 Super Bowl halftime show did not kill Michael Jackson's career. In fact, at the time, it was actually a triumphant moment for Janet's big brother. (As it was for the guy who did the ceremonial coin-toss before kickoff — O.J. Simpson).
After losing viewers the previous year to In Living Color's halftime show, the NFL and NBC, who was broadcasting Super Bowl XXVII, wanted to make sure that wouldn't happen again. So they played their trump card and booked the King of Pop, who was still the biggest star in the world and someone who would guarantee huge ratings.
And he delivered. Ratings went up 8.6% compared to the previous year, and for the first time, more people actually tuned into the second half of the game. The show also helped Jackson's then-current album, Dangerous, which saw an 83% increase in sales during the week following the Super Bowl.
So why are we talking about this? Because the 1993 Super Bowl halftime show marked the beginning of the end for Jackson. We just didn't know it at the time. Several months after his performance, Jackson would be accused of child sexual molestation for the first time, and his career (and life) never recovered. In the 16 years following the Super Bowl, Jackson would be known more for his scandals and personal problems than his musical output, which became uneven and often failed to resonate with large portions of the record-buying public.
Some even had disastrous consequences. For instance, he wrote and recorded a 9/11 benefit song that helped trigger the deterioration of his once-strong relationship with his record label and indirectly set the table for a second child molestation scandal, which tarnished his reputation even more and worsened his drug dependency.
But that's another story.